Featured Success Stories
Patrick
"Thank you MilitaryCupid!"
Your sight made what I thought was an Impossible happening. I have met the love of my life and have been so incredibly happy. She is more than I could have ever dreamed of !!! We met in N.Y.C and I swear we were made in heaven to be together. She is my perfect match, we laugh, and enjoy all the same activities Thank you so much for making this all possible !!! Semper Fidelis !!!!
Patrick
"Thank you MilitaryCupid!"
I found the Love of my life through Military Cupid. I am a very happy Marine !!!
Rose
"Thank you MilitaryCupid!"
When i First Meet Ryan my world changed I love that man more an more every passing day he is the love of my life and we are beyond perfect for each other. I would recommend this site to anyone who is looking for the real thing .
Liz
"Thank you MilitaryCupid!"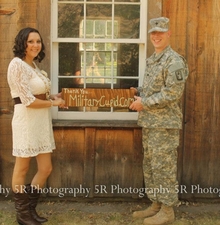 Me and my fiance met on this website and never in a million years would I think it was possible! We instantly connected when we finally met in person and have been inseparable ever since. We're now engaged and are getting married next summer and we're even talking about having children shortly after that! You find love in the most unexpected places. Thank you military cupid! You've changed our lives for the best!
Stephanie
"Thank you MilitaryCupid!"
I didn't expect very much from this site. I came out of an engagement with a sailor in the US Navy and knew it was time to find someone better and someone who would treat me better. I just decided what the heck do I have to lose? Days after creating an account I met Matt, an amazing guy who I found to have the same values as me when looking for relationships. We talked for a few weeks on Facebook. He ended up being from a city near me and had moved there after he got out of the Army just a few months ago. My birthday was right around the corner shortly after talking on Facebook. I invited him to the beach with me and my friends for the day. We knew there was something there after meeting for the first time. He was so fun to be around and very respectful. He is someone I see myself falling for more and more every day. I couldn't be happier with him. Thank you Military Cupid for matching me with one of the GOOD GUYS out there in the world!
Cupid Media, the Cupid Media Logo and MilitaryCupid are trademarks of Cupid Media Pty Ltd.